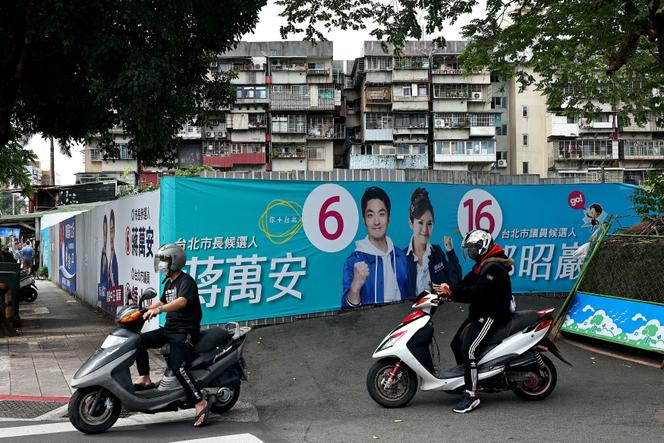 Hsu Chiao-hsin has no time to lose: the 32-year-old candidate for the (local) provincial elections in Taipei runs through Zhonglun Market in the east of the Taiwanese capital. Wearing black sweatpants and a sky blue K-Way with her name in large red letters, she is surrounded by a team of county employees wearing sweaters and placards with her likeness. Some hand out handkerchiefs with the crossed-out slogan: "Boldly forward. » Armed with a loudspeaker, a woman who is one of his supporters repeats: "Hello, Hsu Chiao-hsin is here to greet you, thank you! Thanks very much ! » She hardly pauses for a few handshakes: For the candidate of the Kuomintang (KMT), the historic Taiwanese party, the long election campaign for the local and provincial elections, which will be held on November 26 in Taiwan, is the be-all and end-all.
Also read:
Article reserved for our subscribers

Being Taiwanese or the story of an ambivalence
Young, dynamic, and "clean" (she became known for denouncing a vote-buying scandal in her party), Hsu Chiao-hsin embodies a form of renewal within a troubled party. At the national level, the KMT, which has been in opposition for six years, seems increasingly disconnected from the electorate, especially the youngest, because of its ambiguous attitude towards Beijing. The party, whose historical leaders came from China in 1949 after the defeat of the Chiang Kai-shek government by the Communists, remains opposed to Taiwan's independence and advocates at least economic rapprochement with China.
A position that has become increasingly difficult to maintain as Beijing ramps up pressure across the Taiwan Strait with increasingly aggressive military maneuvers and rhetoric. But in local elections, diplomatic matters matter less than local affairs and the personalities of the candidates. Enough to give the KMT a chance to exact revenge on the Democratic Progressive Party (DPP), which controls both the presidency and Taiwan's parliament. Thanks to its longstanding local networks, the KMT controls 12 out of 22 cities and counties and could win more in the election.
Image of a good manager
The young candidate spent the months before the polls closed surveying her constituency. The KMT, which ruled under the dictatorship of Chiang Kai-shek and his son Chiang Ching-kuo, ruled Taiwan with an iron fist during the economic boom of the 1970s and 1980s and cultivates an image of good governance. "I have always voted for KMT, I find them more serious about managing the economy", says a 74-year-old man who sells anti-wrinkle creams at a small stall in the market. "The DPP does too much politics, but what matters, the country's business and security, that's not this: what do we need to stand up to China? Look, our agricultural products were banned from import by China this summer."he curses.
You still have 59.93% of this article to read. The following is for subscribers only.