The UQAM campus in Montérégie-Ouest, set up since autumn 2021 on the premises of the Saint-Constant Study Center (CEC) of the Collège de Valleyfield, was officially inaugurated on November 18th in Saint-Constant. The event was attended by several personalities, including the Rector of UQAM Magda Fusaro, Minister for Higher Education Pascale Déry (MA Political Science, 2004), Minister for Immigration, Franciscanization and Integration Christine Fréchette, Federal MP from La Prairie Alain Therrien (M. in Economics, 1994), the Mayor of Saint-Constant Jean-Claude Boyer and the General Director of Cégep de Valleyfield Marc Rémillard.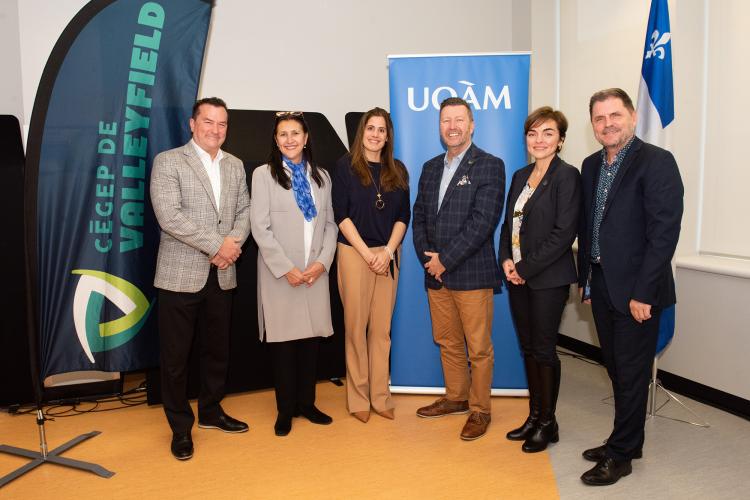 Alain Therrien (MSc in Economics, 1994), Deputy of La Prairie, Magda Fusaro, Rector of UQAM, Pascale Déry (MA Political Science, 2004), Minister of Higher Education, Marc Rémillard, Director General of the Cégep de Valleyfield, Christine Fréchette, Minister of Immigration, Franciscanization and Integration and Jean-Claude Boyer, Mayor of Saint-Constant. Photo: Nathalie St Pierre
Since its inception in 2019, the CEC has hosted more than 600 students in both regular and continuing education and is now staffed at maximum capacity. The sums of money granted by the Ministry and by Cégep de Valleyfield in recent years have enabled the addition of classrooms, offices, study and rest areas and, in 2023, the modernization of the CEC cafeteria. The available resources and student services have also grown over time. "With this modernized campus, UQAM is strengthening its presence in Montérégie and working toward its core mission of increasing access to university studies for a population whose training needs are growing," said Magda Fusaro. The university intends to further anchor itself in the community by developing various research projects and collaborations with surrounding communities, organizations and companies. The inauguration of the new facilities is undoubtedly a great opportunity to celebrate this fruitful and enduring regional partnership."
Last June, the Ministry of Higher Education granted permanent status to the CEC. This announcement will allow UQAM and Cégep de Valleyfield to consolidate and improve their training offerings in the area. "Over the past three years, the center has repeatedly demonstrated its desire to meet the needs of the community while offering quality education," said Minister Pascale Déry. Its creation has enabled hundreds of Montérégers to return to school or continue their studies while remaining in their region."
"The efforts of Cégep de Valleyfield and UQAM in recent years to meet the training needs in the region are remarkable," added Minister Christine Fréchette. This project benefits everyone: our students, who can study closer to where they live; families who want to place their children closer to home; Entrepreneurs who are happy about the attractiveness of our region."
The Montérégie-Ouest campus offers certificates in administration, service administration, accounting, early childhood education and human resource management. You can see the list of programs on the campus website.